Avoiding traps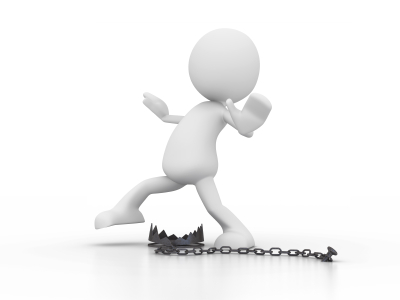 Clay Shirkey says, "The best way to learn something is when someone else figures it out and tells you: 'Don't go in that swamp. There are alligators in there.'" I've sent 30 years building a network of professionals that help me do just that. But sometimes that's not possible. Sometimes you are the one doing it first. I also think that some lessons you need to learn personally. They can't be taught by avoidance. Read more at
Knoco stories
:
Is Learning from Failure the worst way to learn?
- o/|oo|\o -
Still Blockbuster?
Casey Sullivan has a great post today. He asks the question, "Are You Netflix or Blockbuster?" There is something missing from the title though. At one point everyone was Blockbuster and that was good. "Are you STILL Blockbuster?" is perhaps the more important question. Casey concludes, advising law firms, "They just need to realize how some simple changes can benefit their processes, automate their unprofitable tasks, and allow them to bring in more billable hours. The cloud made Netflix. It killed Blockbuster. Which are you?" Read more at
Closing the loop
:
Are You Netflix or Blockbuster?
- o/|oo|\o -
Stupid times two
I highlighted this issue as a UI/UX issue, but apparently there are many lessons to be learned from scaring Hawaiians. If you don't write your passwords on a yellow sticky note and put them on your monitor, then you won't have to answer questions when your picture is in the newspaper about why you do stupid things like write your passwords on a yellow sticky note and put them on your monitor. Read more at
naked security
:
Yes, Hawaii emergency management stuck a password on a sticky note
- o/|oo|\o -
Feit Consulting
Thank you again for your support to one of our great sponsors, Feit Consulting! They are back for yet another week long sponsorship! We'll be highlighting their posts in a special section again this week. From
library rightsizing
and
operational audits
to
online resources audits
and
contract negotiations
, Feit can help you with your issues. Give them a call.
- o/|oo|\o -
A New & Better Conference
The
Association of Legal Technologists (ALT)
is hoping to do something different, something better when it comes to professional networking and conferences. Our first conference, "ctrl-ALT-del, Networking Rebooted" will be held in Scottsdale, Arizona, from February 11-13, 2018. I am particularly jazzed about the theme, "legal design thinking." I hope you will come and be part of it with us. Read more at
Legaltech news
:
With 'Legal Design Thinking,' ALT Eyes New Type of Legal Tech Conference
- o/|oo|\o -
Jeffrey Brandt
, Editor
Connect with me on LinkedIn
Jeffrey Brandt
Follow me on Twitter
@jeffrey_brandt
Follow all the PinHawk highlights
@PinHawkHappens
Website:
PinHawk.com
| Blog:
PinHawkBlog.com
Welcome to the newest "pinions" this week from
Australia!
There are other Pinhawk newsletters that your colleagues and coworkers may be interested in. Pass along the links to the
PinHawk Legal Administrator Daily
and
PinHawk Librarian News Digest