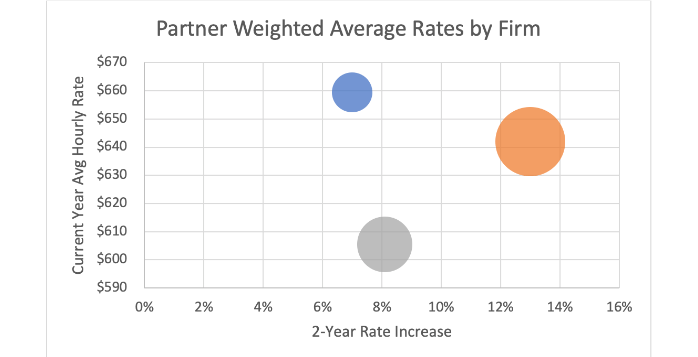 A bubble chart about law firm billing rates. It's rare that we run across an analysis that uses a bubble chart, which can visualize three different numbers. 'A bubble chart is a useful type of visualization to show the interrelationship of three metrics. In this example, the X-axis represents the two-year percentage increase in rates, the Y-axis represents the hourly rate billed, and the size of each circle represents the volume of hours billed. At an aggregate level, this analysis might start by comparing law firms. Each circle is plotting the weighted average hourly rate (weighted on hours billed) of partners billing from different firms.' Click here for the full text from LexisNexis CounselLink's Kris Satkunas.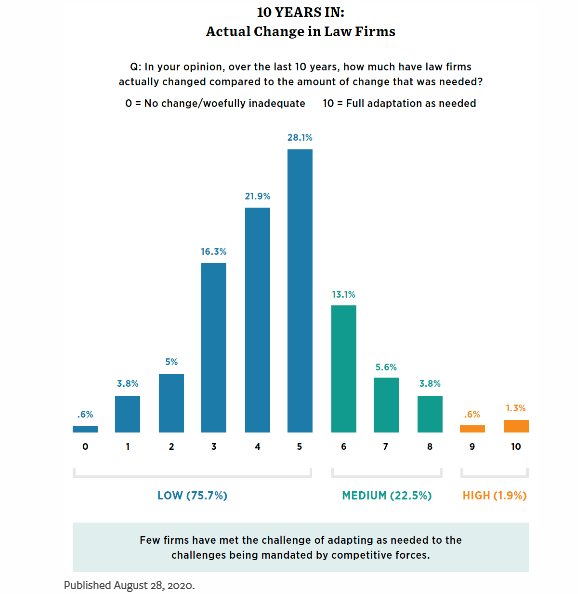 Covid19 unlikely to change law firm behavior. Pundits shout about the pandemic galvanizing transformational change in law firms; realists point out the unlikeliness of such upheaval. '[N]ow, facing another fork in the road - pandemic-induced economic shellshock - 'will law firms respond by rethinking their methods and structures to align with clients' expectations?' Altman asks. 'History says that most will not.' The accompanying chart, one of many in the report, shows how persistent the disconnect is between what firm leaders know must happen and how unlikely it is that it will happen.' Click here for the full text from Corporate Counsel Business Journal's article on Altman Weil's survey.
Three categories of factors that press legal service organizations to invest in software. Amidst the findings that would be expected from a research report on legal service organizations, one categorization of factors promoting tech change stood out. 'The report notes that there are several key factors pressuring legal service organizations to up their technological game and divided those factors into three categories: data, competition, and security.' Click here for the full text of the latest report from OpenText and Thomson Reuters Peer Monitor,.
Your law department could learn from its law firms about your e-billing practices. Law departments might consider asking their primary law firms for data about the law department's handling of e-bills. 'Many law firms, of all sizes, are now generating their legal bills in electronic format; submitting them through an e-Billing vendor system to the client. This is known as 'true' e-Billing, as opposed to a law firm simply keying the billing data into a web portal and/or uploading a PDF copy of the bill. For those firms using full e-Billing, metrics can be used to monitor how well the function is performing.' Click here for the full text from BusyLamp's Bryan King.
Consulting advice for free to legal departments of non-profits. The legal departments of not-for-profits will have access to legal ops experts. 'Through Tonkean's close partnership with the AdaptivOps Community, which has brought together hundreds of the world's top operations and IT professionals to share ops knowledge, the Changemakers project will deliver hands-on advice from experts in IT, HR operations, sales operations, legal operations, financial operations and more. Each ops professional will be matched with a nonprofit based on their specific expertise and the organization's operational needs, and will be provided access to Tonkean's business operations platform to orchestrate their processes.' Click here for the full text from Tonkean.