Huge and growing revenue for ALSPs. Not a bad market size for this growing solution. 'Alternative legal service providers (ALSPs), otherwise known as "New Law" entrants, continue to gain traction in our modern legal services landscape. Accounting for nearly $14 billion of global market share, this rapidly expanding community now occupies a crucial role as a key business partner - if not lucrative practice innovation - for a profession fundamentally transformed.' Click here to access a paid-for recording from the Thomson Reuters Institute.
Invest in new software companies to get in on the ground floor of innovation. Larger law departments might want to consider investing in legal tech startups. 'Gayton's anecdotal experience seemed to line up with the webinar's poll results of attendees, in which nearly 50% of the mostly GC and CLO audience, said they would invest in legal startups. (Only 19% said they would NOT invest in legal startups.)' Click here for the full text from Axiom.
Procurement and finance can lessen burden of contract review by legal. 'The procurement team used Evisort's self-service contract templates to create basic intake forms that covered all of the "gotcha" requirements. They worked with vendors and business partners to complete as much of the form as they could without legal's precious resources. Then, procurement used Evisort's pre-signature workflow tool to notify different stakeholder departments and the collaboration tool to discuss the terms in a special stage before going to legal. After getting upstream consensus, they could then assign legal to review only the high-priority contracts or high priority sections (such as limits of liability and termination clauses) that require their expertise.' Click here for the full text from Evisort.
Let law firms enhance the data you maintain, and its analysis. Perhaps law departments should consider how to include data on matters kept by the law firm, with an automatic feed. '[S]ome innovative firms have started offering to enhance client data as a free value-add at the conclusion of each legal matter. The firm can go into your system and tag matters with information like settlement amount, court, jurisdiction, judge, opposing counsel, etc. The enhanced data could take your case analytics to a whole new level by, for instance, allowing you to do a "regression analysis"-a statistical analysis that gives you insights into what kinds of variables are associated with elevated case costs, cycle times, and settlement amounts. You can then plow that analysis back into your litigation strategy and focus on reducing exposure to variables that are most associated with higher costs.' Click here for the full text from Wolters Kluwer.

Four varieties of law firm accruals. Click here for the full text from SimpleLegal about accruals as well as an image. 'Many legal teams are familiar with accrual estimates and pending invoices, which are the most common types of accruals, but there are actually four types of accruals in legal: accrual estimates, pending invoices, invoices with missing information, and rejected invoices. Here is an image What Legal Ops Should Know About Monthly Accruals in 2021
Law departments should consider ALSPs owned by their key firms. Captive ALSPs are owned by a law firm. 'In 2015, nascent captive ALSPs accounted for only about $150 million in global annual revenue; by 2019, that is estimated to have grown to roughly $480 million. The overall market for ALSPs increased by about $5 billion in that same time period. From 2017-'19 alone, ALSP market share saw estimated compound annual growth of 15%, more than twice the compound annual growth of the Am Law 200, which was about 6.4%.' Click here for the full text from the Thomson Reuters Legal Executive Institute.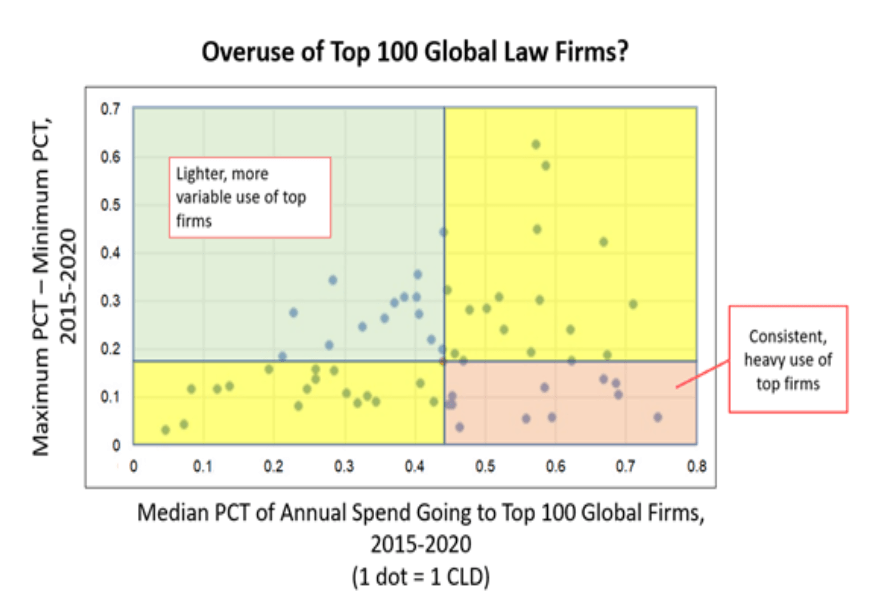 Large law firms raise costs for legal departments. 'The "median" CLD (the red dot in the middle) sends 43.9% of its spend to the top 100 global law firms. That might sound high, but many CLDs go much higher (see the x-axis of the below illustration). One law department, for example, sent a median of 74.6% of all spend to those top law firms over a six-year period (2015 to 2020).' The image conveys the rest of the data Thomson Reuters gathered. Click here for the full text from Wolters Kluwer.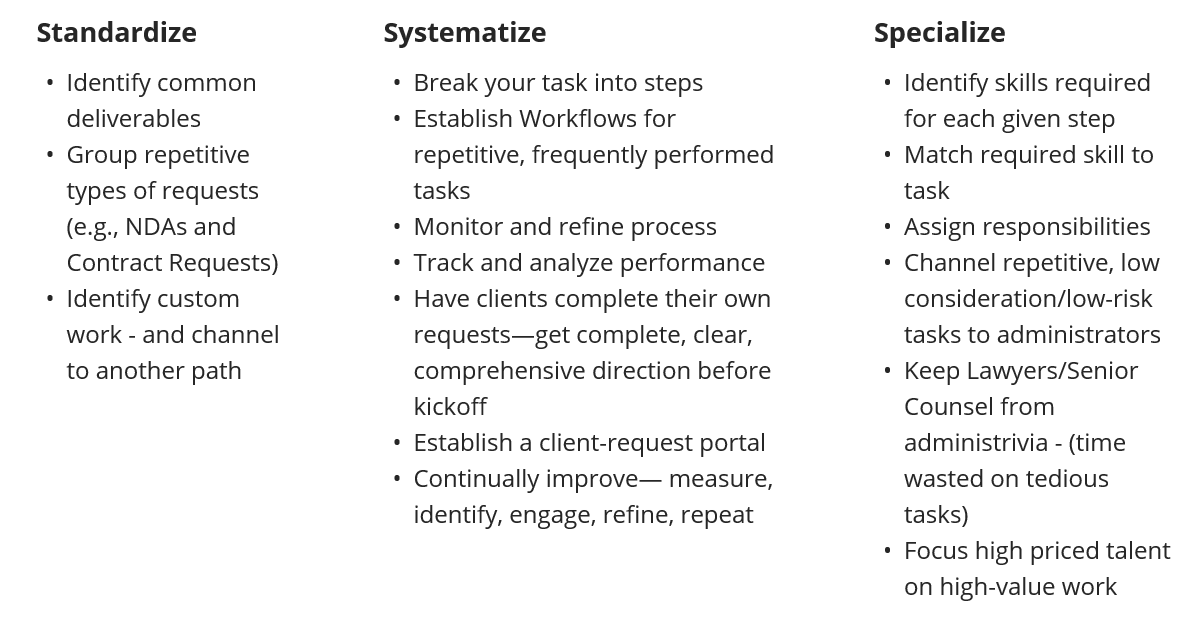 Think of the parts of your legal services that can be standardized. The elements of the mnemonic chart make sense for general counsel when they consider how their departmental processes work. 'Henry Ford did not create the automobile, but by inventing the assembly line, he pumped out Model-T cars faster and more efficiently than ever. When you break down your work, with Henry's production-engineer mindset, you and your office crew do similar kinds of things for your clients over and over. Considering your team's situation, Ford's approach is prophetic: standardize. systematize. specialize.' Click here for the full text from Netdocuments.