What should be a mantra for decisions: data over anecdote. The point this article makes applies to contracts, but more broadly to all decisions by managers of law departments. 'Gather data, not anecdotes: If you're ready to begin the process of CLM implementation, the first place to start is with the data. Everyone has stories of contract negotiations that went horribly wrong or a sourcing that took way longer than it should have. There are always stories and anecdotes. But you should look into the data. How long is it taking you to get contracts through on average? And if you can, where is that time being wasted?' Click here for the full text from Agiloft.
Five project management tools. Asana project management software is based on the Kanban management system, which enables users to visualize work-in-progress.
Trello is another popular Kanban-style tool that, like Asana, stores information in the cloud. A client intake staff member can create a new board for each potential client. They can customize each board with columns so that staff members can track or manage the development of a case.
Evernote is used by a number of attorneys, particularly for capturing information for legal research, productivity tasks and even case management. Evernote has the ability to capture and save notes and recordings from the web in a variety of different formats, whether these be emails, legal briefs, research files or discovery documents.
dTrax is an end-to-end contract management tool developed by Deloitte's AI Factory to streamline the drafting process. While many attorneys are already familiar with text templates or speech-to-text applications, dTrax provides templates that can automatically input contextual data, speeding up creation of contracts that are highly repetitive in some sections and highly personalized in other sections.
TrialPad is a popular trial presentation iPad app from Lit Software that also serves as an affordable project management application.' Click here for the full text from Trellis Research's Nicole Clark.
Scoring vendors as part of an RFP process. Often overlooked, law departments that put work out for bid should give thought to how they will score the responses that come back. Software can help. 'Manually taking notes on vendor prospects is a tedious process that should be left in the past. Vendor response ratings and scorecards provided by advanced eProcurement software solutions can help organizations to feel confident that the vendor that is most aligned with their needs is selected. With bid rating weight control, organizations can configure the weight of specific vendor criteria over others when scoring bids. User-friendly bid tabulation reports can be utilized to include scoring and pricing line items for a rapid and easy-to-understand overview of bids.' Click here for the full text from Cobblestone Software.
Three techniques of law firms that inflate bills. A client balked at the fees charged by a law firm, and describes three methods in the pleadings. 'According to the suit, a lawyer within K&L Gates reported to [the client] that the law firm hosts an annual seminar in Phoenix for lawyers to learn various ways to increase their billing. The suit claims that K&L Gates used these techniques to increase billing:
- Block billing, in which lawyers aggregate multiple smaller tasks into a single block entry. Such billing can inflate total hours billed to a client by up to 30%, the suit says, citing information from a State Bar of California arbitration advisory on detecting bill padding.
- Hoarding, in which an overqualified professional with a high billing rate retains work that could be passed on to lower-paid professionals. 'Often, hoarding results in partners doing associate work, associates doing paralegal work, and/or paralegals doing clerical work,' the suit says.
- Multibilling, which occurs when multiple attorneys perform the same task or attend the same event when one lawyer could handle the task.' Click here for the full text from the ABA Journal's Debra Cassens Weiss.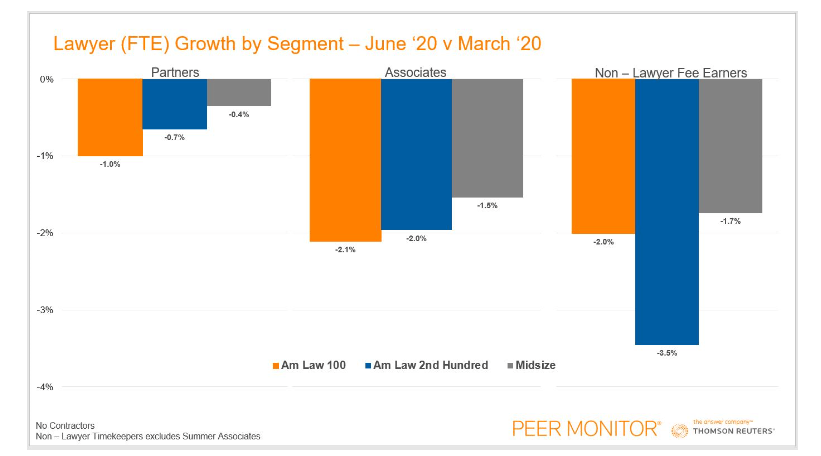 Higher-rate lawyers take on more work as law firms lay off lower-rate employees. With layoffs pounding lower-billing employees, effective billing rates of law firms will rise [see the previous comments on 'hoarding'. '[A]ssociates and non-lawyer timekeepers (including specialists, paralegals, litigation support staff, and other timekeepers) have experienced the most reduction in headcount thus far during the pandemic, with the average firm reducing their ranks 2.1%, and 2.6%, respectively. While the levels of equity partners and non-equity partners have only been reduced by 0.6% and 0.4%, respectively.' The image provides more insight. Click here for the full text from Thomson Reuters Peer Monitor's Isaac Brooks.
Do you need to have law firms sign your guidelines? You could also have each invoice include an attestation that the firm has read the guidelines. It takes time and effort to track signatures. 'The signature page is your insurance that your outside law firms have read the billing guidelines.' It's difficult to enforce guidelines if your vendors can claim they never received or read them. A simple signature page that states, 'Our firm acknowledges receipt and accepts the terms of these legal billing guidelines' can prevent a lot of disputes and headaches down the line.' Click here for the full text from Simple Legal's Lauren Lee.
A rephrasing of Alternative Legal Service Providers' An enormous revenue claim, and one which needs to additional definition and specificity. 'Law companies now make up more than $12 billion of sales, and the market opportunity to grow into is huge. More than half of Global 200 law firms use or partner with law companies, and in 2018, 25% of Global 1000 CLOs said they planned to increase spending on law companies, almost double the response from two years before. Meanwhile, outside capital - more than $1 billion in 2019 - is flowing into law companies, and M&A activity is heating up. The second quarter of 2020 saw $178 million in investment in legal tech companies, beating 2019's Q2 total of $122 million, despite the COVID-related economic crisis.' Click here for the full text from Elevate's Liam Brown.