Mixing and matching can improve your project management. This piece gives the usual suggestions for running a project, but it starts by adding some specific options, a mixture of which the author argues can boost your results. 'Add a smidgen of Agile, dust with a hint of Waterfall, and add a large dollop of Scrum, and you've got a modern project.' Click here for the full text from Don Philmlee.
A claim that COVID19 has expanded the influence of GCs. I am dubious about this claimed shift of power and influence. Why would legal issues have become more pressing than operational issues, or financial or HR? 'It's a common refrain that we hear often: The GC and CLO now play a key role in business strategy, as they oversee a much broader range of responsibilities. In fact, we wrote a whitepaper detailing these changes, and where the role of the GC and CLO is heading in The New Role of General Counsel and Chief Legal Officers.' Click here for the full text from Exterro's Ron Rambo Jr..
Law departments can choose from various resource providers.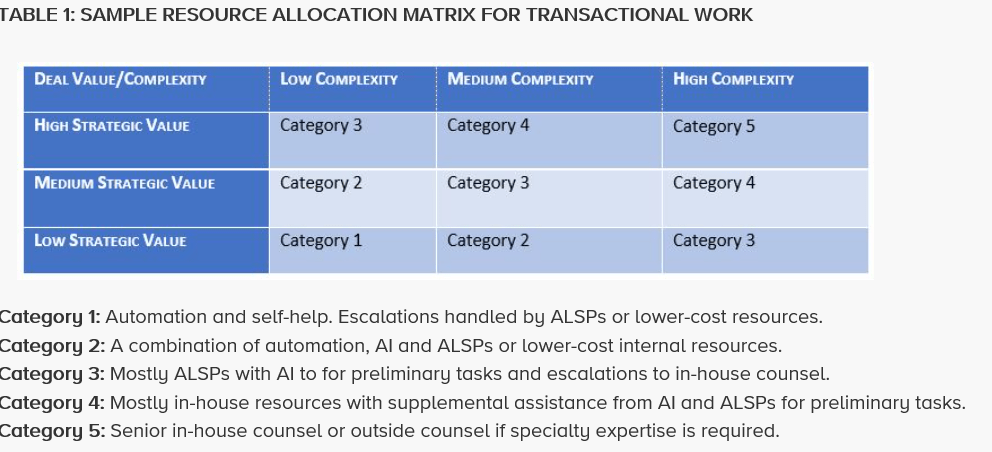 'What is the right strategic approach for a legal department to optimize its return on investment for the resources it deploys to render legal services?' The image conveys one part of the analysis. Click here for the full text from Quislex's Chase D'Agostino and Andy Banquer.
You have to train machine-learning models. It takes a lot of people time to train a machine-learning model. Here is a sense of that investment from the field of contract analysis. 'With a pure machine learning approach, the idea is that we teach the models once and our users can leverage those models over and over again. Kira comes with over 1,000 pre-defined models (called Smart Fields) capable of extracting most of the common types of contract provisions that one is likely to find in a set of contracts.' Click here for the full text from Kira's Alexander Hudek.
In times of crisis, a law department that strives to keep doing business as usual should perhaps stick with the software it knows rather than increase the pace of change by implementing new software. 'Leveraging the technologies that are already on hand is the easiest way to do this.' Of course, others argue that transformation and investment is most timely when tumult is all around. Click here for the full text from Mitratech's Emily Bogin.