---
---
Tension between procurement and legal on contracts? Tim Cummins of the International Association for Contract & Commercial Management (IACCM) suggests that sometimes the goals of the procurement department, and perhaps the department's thinness of talent and resources, cause them to seek simpler contracts that don't address the nuances and difficulties that lawyers notice. In-house counsel should be aware of this pressure to simplify contracts in ways that might sacrifice protection for the company. Here are Cummins' observations.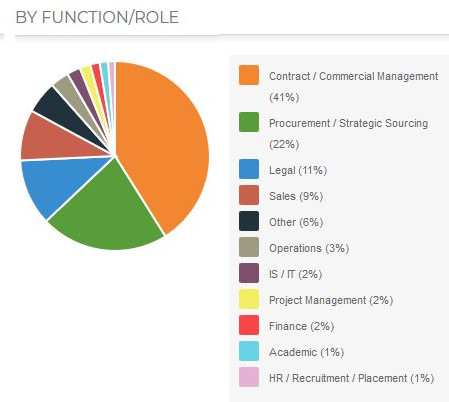 Everyone has a spoon in the contracts pot. in-house counsel work with many other people in the company on contracts. Here is a pie chart of data that shows the distribution of roles as collected by the IACCM. Anyone who tries to improve end-to-end contract management in the legal department should realize that a much wider audience may well be involved. Here is the original data, and more.
Loose lips sink ships; guard confidential information! no one can repeat the message of protecting confidentiality too much. Here is an instructive example of a senior lawyer who left highly confidential information out where someone else could see it and act on it improperly. Many secrets of an organization repose in its legal team. Here is the original article.
Big push of the Big 4 into legal services Steadily, the monopoly of law firms in the United States to provide legal services has eroded. Workers comp drifted away, claims management fell to others, wage garnishments. Recently, a well-known provider of employment and immigration legal services has teamed up with one of the global accountancies. What this means for managers of law departments is a wider scope for seeking services, and therefore quite possibly a different economic proposition that has prevailed in the past. The BloombergBNA article is here.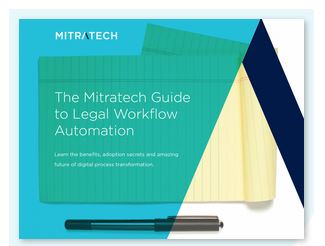 Guide to legal workflow automation. One of the leading vendors of law department software, Mitratech, has written a guide to process improvement using software. The guide is free and may suggest a framework for thinking about this efficiency approach. Click here to download the guide. #lawtech
30,000 active contracts per large U.S. company! This piece starts with an eye-catching metric about the contracts load in-house counsel confront: 'According to PricewaterhouseCoopers, the average Fortune 2000 company holds around 20,000-40,000 active contracts.' A staggering number, to be sure, and the reason why close to half the time of most commercial lawyers in-house goes toward the legal issues arising from agreements. How you staff to handle contracts, what role you expect from clients, where you create templates and standard forms, and what the process and technologies are for handling contracts makes all the difference for a law department. Here's the full post.
Lucky to have good thoughts about legal ops. The always-thoughtful Brad Blickstein sets out seven timely questions that he is thinking about before the Las Vegas CLOC conference. He offers no answers, but the major topics, such as artificial intelligence, the Big Four, the future of CLOC, and the plethora of contract management vendors, all deserve attention. Here are Blickstein's lucky 7 thoughts.