A contract buffet (kiosk) by a law department. I like the metric on non-revenue related contracts, and how this department handled contracts. 'For example, after noticing that 30% of the contracts the legal team executed were related to matters that didn't bring any revenue to the organization, the team developed a legal kiosk on their own. The kiosk featured more than 80 different types of contracts that anyone could access, and after answering 10 or 12 auto-generated questions, they would receive a template of the needed contract.' And, they developed the kiosk themselves. Click here for the full text from Legal Executive Institute's Greg Wirth.
Available benchmarks on risk management practices? I wish the piece had identified any of the benchmark metrics or sources of comparative data. 'She also observed that law firms' access to benchmarking data can help law departments understand what their industry peers are doing around risk management, identify best practices, and successfully apply those practices to their department operations. [The panelists] agreed, lauding the value provided by benchmarking and citing the relative invisibility of industry data to in-house departments and the safety of staying in-step with industry standards.' Click here for the full text from Legal Executive Institute's David O'Connor.
Speed up M&A due diligence by two-thirds with AI! 'Dealmakers do recognise that new technologies will shorten the time it takes to complete due diligence, what they identified as the most time-consuming phase of the process. In fact, dealmakers in EMEA see new technologies such as AI transforming the M&A process by decreasing the time it takes to perform due diligence. A full 64% believe due diligence will take less than one month by 2025 from the one to three months it takes today. Key to speeding up the process is the use of VDRs [virtual deal rooms].' Click here for the full text from Datasite's Merlin Piscitelli.
Do in-house patent attorneys discriminate against women inventors? Data from the United States patent office makes you wonder. 'While each year the number of new patent grants is announced, perhaps the patent statistic that has catalyzed the most action recently is the USPTO's groundbreaking Progress and Potential series of reports which, for the first time, officially documented that only 12-13% of American inventors are women, and Director Iancu's leadership and his staff on the issue. This report has prompted conferences and toolkits, and spurred companies to revisit their patent programs and pipelines.' Click here for the full text from PatentlyO.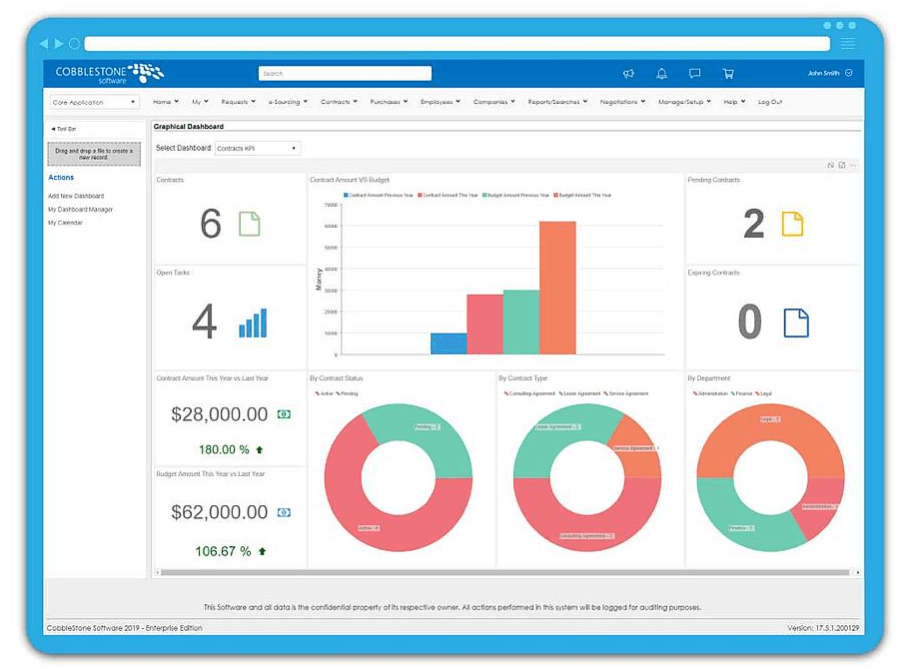 Ways to display information about contracts. The term dashboard seems more common, but it's the idea and technique that matter. 'An online report designer interface allows healthcare organizations to configure report layouts to display important information. Online report designers can include various exportation options - including MS Word, spreadsheets, PDFs, rich text, CSV, a myriad of image formats, and more!' The image gives a sense of what a contracts dashboard might look like. Click here for the full text from Cobblestone Software's Sean Heck.