For security, provide WFH lawyers with company laptops. BYOD takes a backseat to corporate security. 'Tracking physical inventory: In the current situation, it is more important than before for the companies to issue at least a laptop (and other smart devices as necessary) to every employee and requiring all employees to perform any remote work using a company-issued device only.' Click here for the full text from Fox Rothschild's Roshni Ghosh.
Lawyers see themselves as more artists than scientists. One view of why law department lawyers resist tracking numbers. '[T]he biggest reason is a belief within the legal department that they do work of a special nature incapable of being expressed in numbers and even if it can be, the effort involved in capturing the data doesn't justify the results.' Click here for the full text from PwC Law (Australia).
A thoughtful view on the slow adoption of AI to the law practice. 'But many law firms that counted on AI to raise their innovation initiatives to the next level have seen little or no return on their investments. Why is that? Some commentators claim AI adoption has been slow because lawyers view the technology as a threat to their billable hours. I don't believe that's true. In my experience, lawyers will happily adopt a new technology that meets four criteria:
1. It addresses an important problem;
2. It presents an effective solution to that problem;
3. It fits into the lawyer's overall workflow; and
4. It's affordable.
Sadly, most legal AI applications [exceptions noted for e-discovery and contract management] fail to meet at least one of these criteria.' Click here for the full text from O'Melveny & Meyers' Jeff Rovner.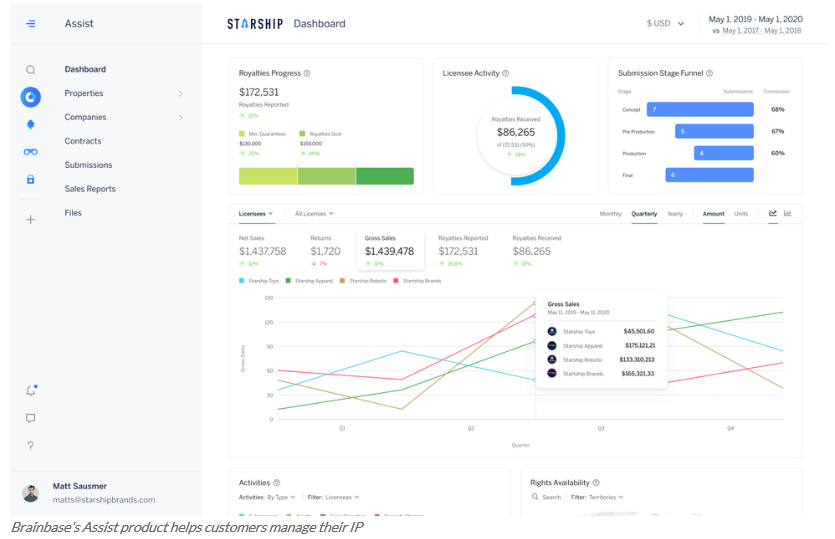 An IP insights company emerges in the pandemic. Brainbase, a new entrant in the field of IP management software, sounds impressive from this article. Along with dashboards, it describes itself as offering 'analytical tools for comparing IP asset performance by property, territory, partner, category and distribution channel; automated invoice generation and contract management; and artificial intelligence tools to identify potential opportunities for exploiting IP.' The image of a dashboard appears here. Click here for the full text from Today's General Counsel.
Two players in the project management space. A piece by SimpleLegal explains four basic kinds of software law departments should consider. The fourth addresses project management. 'Legal needs to collaborate with nearly every other department in their organization. Sometimes this is ongoing; other times, it's project-based. Tracking tasks is critically important to being a good internal service provider.' Later, the piece adds 'Many legal teams turned to established task management systems such as Trello and Asana to minimize paper memos and improve cross-departmental collaboration.' Click here for the full text from SimpleLegal's Nathan Wenzel.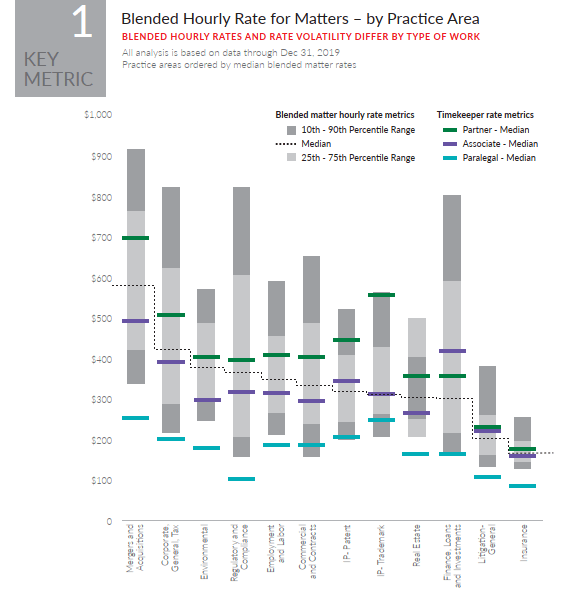 Among the findings from the latest CounselLink report, what struck me were the modest effective billing rates by practice area. The image conveys much of the data for partners, associates and paralegals, but the report also adds an insightful 'volatility' metric. Click here to download the full report.
Pace hasn't slowed during the pandemic. 'A survey by LOD (Lawyers on Demand) of 383 inhouse legal and compliance professionals from over 250 companies found that 59% believed the Covid-19 crisis has increased their workload, despite the economic slowdown and drop in business activity across many sectors. Of this group, 65% said they were finding it difficult to 'predict how long their workload will remain at this elevated level'.' Click here for the full text from Lawyers on Demand.